Calculate your take home earnings as a freelancer on Upwork
Take your wealth planning to the next level with my
Wealth Planning Toolkit

for Google Sheets – just $20.

Plan for recurring monthly income over different time periods as well as windfalls and one-time purchases in the future.

Includes 10 year Net Worth Tracker with Dashboard, Asset Rebalancing Calculator, and advanced FIRE and Coast FIRE Calculators.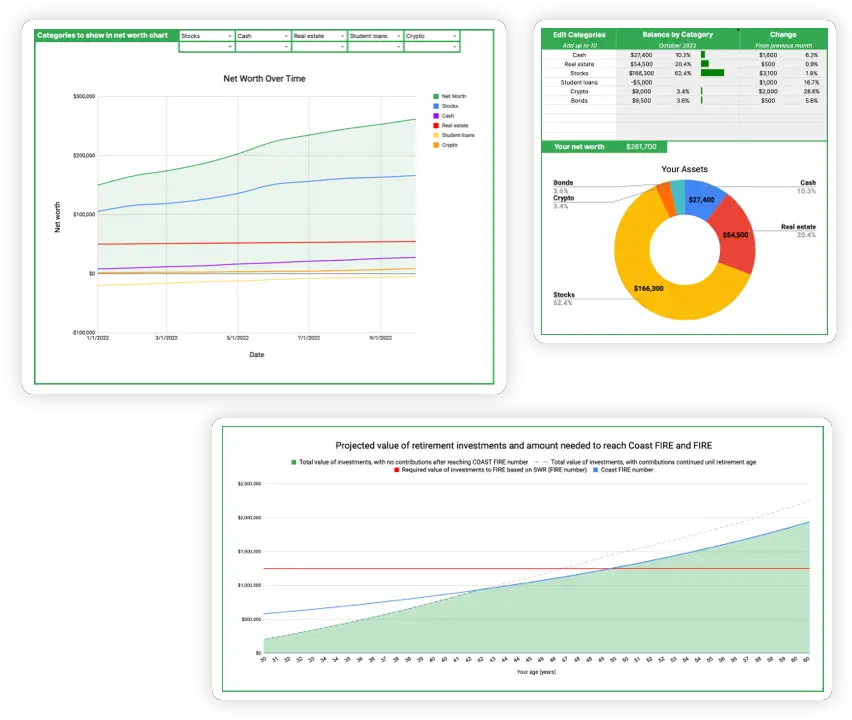 Using this calculator
This calculator is intended to help you calculate your take-home earnings from freelance work on Upwork.
Simply enter your invoice total for a specific Upwork invoice and your prior lifetime earnings with this specific client on Upwork. Then the calculator will automatically calculate your take-home earnings and Upwork fee for this invoice and over your lifetime with client.
Your invoice total is the value of a specific invoice with an Upwork client.
Your prior lifetime earnings with this client is the total amount of all work you have previously invoiced with this particular client through Upwork, not including your current invoice that you entered. If this is your first job with this client, leave it at $0.
Your take-home from this invoice is the amount of earnings you take home from this invoice after Upwork's fee
Upwork's fee on this invoice is the fee that Upwork will charge on this invoice based on your previous earnings with this client on Upwork.
Your total lifetime invoices from this client is the total value of all earnings from this client, before Upwork's fee.
Your total lifetime take-home from this client is the total amount of all lifetime earnings from this client after Upwork's fee.
Upwork's total lifetime fees from this client is the total value of all Upwork fees from your lifetime work with this client.
Upwork is a large and popular marketplace for freelance work in a wide variety of fields like software development, graphic design, writing, and customer support. The Upwork platform connects freelance talent with clients and allows freelancers to find projects, communicate with clients, and ultimately get paid for freelance work.
Similar to other gig-economy marketplaces like Airbnb and Uber, Upwork has a built-in system that allows talent and clients to rate each other after the work contract has been performed. In fact, on the Upwork platform, clients and talent leave each other over 20,000 new reviews per week. Emplyers are rated by talent on a 5 star scale, and an employer's rating is shown on their profile page, so talent can vet employers before signing up for work contracts. Ratings from your clients builds your job success score. This is a percentage shown on your profile which reflects how many gigs were completed to the clients satisfaction.
As a freelancer, this enables you to build up a profile on the Upwork platform which serves as social proof of your experience and helps you to find work more easily in the future. Once you begin to establish positive ratings on Upwork, clients will start to organically discover your profile on the platform and come to you offering work. This creates a positive feedback loop, and as your client demand grows and your ratings improve, you can charge higher rates for your work.
Hourly work on Upwork
Upwork's desktop app offers a built-in feature called WorkDiary which you can turn on to keep a detailed record of your progress on a project. WorkDiary tracks your time in 10 minute billing cycles and records keystrokes, scrolling, and clicks as well as occasionally taking a screenshot.
Turning WorkDiary on is optional and you can manually log hourly work instead, but using WorkDiary does allow you to qualify for an Upwork service called Hourly Protection. Hourly Protection ensures that you are paid for hourly work that you completed as recorded by your WorkDiary, even if a client refuses to pay you.
Fixed price projects on Upwork
Fixed price projects are another option for working on Upwork. Once you agree on a fixed price for a project with a client, the client must set aside a deposit upfront. Your client must set milestones, which are predefined deliverables leading up to the project completion. You are paid part of the deposit as you complete each milestone, and then you are paid the remainer of the fixed price upon full completion of the project.
How do Upwork's fees work?
The Upwork fee structure uses a sliding scale based on your total lifetime billing for a particular client. The more you work for a client, the less of a fee Upwork takes. The Upwork service fee structure is as follows:
$0 – $500 in lifetime earnings: 20% service fee
$500.01 – $10,000 in lifetime earnings: 10% service fee
$10,000.01 or more in earnings: 5% service fee
Keep in mind that these fees are specific to each client. So even if you reach the 5% fee tier with one client, you will start out being charged at the higher 20% rate with a new client until your earnings with that client reach the higher thresholds.
How do you get paid on Upwork?
Upwork makes it easy for you to get paid for your freelancer work with various secure payment methods. You can get paid for your work in two ways: either hourly or fixed price. Upwork offers a few different built-in methods for you to recieve payments for your work, including:
Direct deposit to U.S. banks via ACH transfer
Direct deposit to local banks (outside of U.S.)
U.S. dollar wire transfer
Instant pay for U.S. freelancers. This method uses a Visa or Mastercard debit card linked to your account to make your payout available in your account in minutes.
Upwork also allows you to withdraw your earnings using the following third party payment vendors:
PayPal
Payoneer (outside of U.S.)
M-Pesa (Kenya only)
Your hourly work is billed on a weekly basis. You will get paid after you review the work with your client, ten days after the billing period ends. Even if your client ends a project before you complete it, you can use Hourly Protection and milestones to go through Upwork's dispute process to ensure that you get paid for work you performed.
For fixed-price projects, you are paid out as soon as you meet the milestones you set with your client. Upwork also has a dispute process in case a client missed paying for a milestone or refuses to pay you for completed work.