👋 Hey there, hope you're having a good week! Welcome to the WalletBurst monthly newsletter for the month of March 2023.
Market Update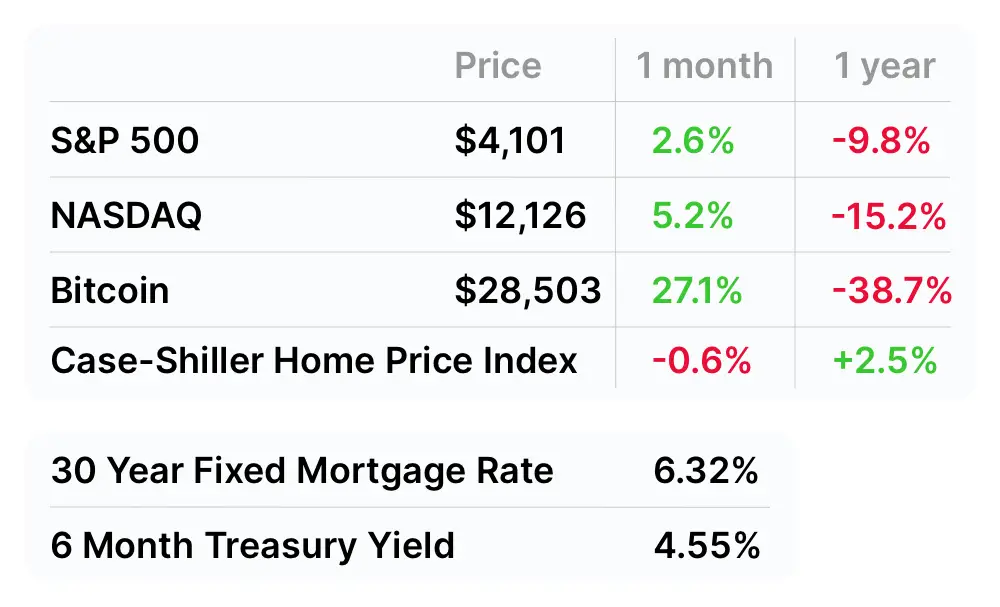 The theme for this past month was undoubtedly bank collapses. Here are a few interesting tidbits I came across in the wake of the collapse of Silicon Valley Bank:
🏦 Anatomy of a bank takeover (12min podcast)
Fascinating behind-the-scenes look at how the FDIC swiftly handles the takeover of a failing bank.
⚖️ SVB and the Fed – Charting a course between inflation and bank failures.
The Federal Reserve is in a dilemma – if they keep raising rates, more things will break in the financial system. But if the Fed pauses its rate hikes or cuts rates to ease the pain in the banking world, it runs the risk of losing its credibility and letting inflation go out of control, necessitating even bigger rate hikes and even more pain in a few years.
🏠 The Great Appreciation Of Home Prices Is Now Over
Looking at median US housing data, 100% of the inflation-adjusted appreciation in home prices from 1990 to 2021 was due to decreasing interest rates, which increased purchasing power for homebuyers.
The 30-year trend of decreasing interest rates likely bottomed out in 2021 when the federal funds rate hovered around zero. While interest rates are likely to fluctuate in the future, the federal funds rate would literally have to go negative for the trend of decreasing interest rates – and appreciating real estate – to continue.
🎤 The Morgan Housel Podcast: Lifestyles (25min)
Spending your money to make yourself happy vs to impress other people
Morgan examines the question: "Are you doing things to impress other people, who aren't even paying attention to you, or to make you yourself happy?"
"Success is when the people who you want to love you, do love you." – Warren Buffett
🎂 40 Lessons from 30 years by Nat Eliason
Money is a tool for freedom. The best reason to accumulate wealth is to buy yourself freedom from anything you don't want to do, and the freedom to do the things you do want to do.
Money can absolutely buy happiness. So long as you spend it on upgrading and expanding the things that make you happy, instead of using it to play status games or on fleeting experiences.
New on WalletBurst
Nothing new this month…
End Note
Thanks for reading! If you're enjoying my newsletter, I'd love it if you shared it with a friend or two. You can send them here to sign up.
And if you have any feedback on my site or come across any interesting personal finance content, send it my way to andrew@walletburst.com. I love to hear from my readers/users!
Have a great day,
Andrew ✌️